Facial care and cleansing – what does the face need?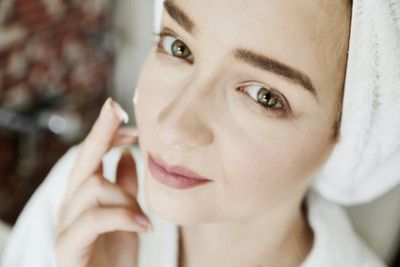 Face care – what does the face need?
The face is often the first thing you see of a person and is the figurehead of their personality. Therefore one should take good care of it with the right facial care.
The face is exposed all day to exhaust fumes, environmental toxins. Exposed to heating air and the sun, and therefore needs more care than some might expect.
If one neglects the facial care, the skin dries out in the long run and the complexion looks tired and stale. The result is premature aging and surely everyone would like to delay this as long as possible.
Facial care – The first step is cleansing
The be-all and end-all of healthy facial skin is regular cleansing. You should make it, like brushing your teeth, a daily routine and do it in the morning after getting up, and in the evening before going to bed.
While facial cleansing prepares the skin for makeup in the morning, in the evening the face is freed from makeup and dirt.
For cleansing, it is best to use a mild washing lotion. Afterwards, remove excess skin flakes with a cotton pad soaked in facial toner.
The facial toner clarifies and gives the skin a little freshness boost. The pores are now free and can absorb the following care products much easier.
Cream is applied after cleansing
The face cream is a major player in daily facial care. It contains important care products and provides the skin with nutrients and care substances.
It should moisturize the skin, but never clog the pores. It is important that the face cream is tailored to the respective skin type.
Normal skin types are well advised with a normal moisturizer. If you tend to have dry or extremely dry skin, you should use rich creams. For oily and combination skin, oil and fat-free day and night creams should be used as far as possible.
In winter, the skin always tends to be a little drier due to the permanent heating air and a dry cold outside. Therefore one should pay attention in the cold season to an intensive moisturizing care.
To ensure that the ingredients of the face cream are absorbed particularly well, it is advisable to massage the cream in well with the fingers. The massage also promotes blood circulation and gives the face an additional freshness.
The demands on day and night care are different. With the day cream one should make sure that it contains a sun protection factor. They should also be well absorbed and ideally also serve as a base for make-up.
It is important that the night cream has regenerating properties. During the night, the skin metabolism increases and cell damage can be repaired.
Even more care through masks and serums
If you want to give your face an extra dose of care, apply a serum under your day and night cream. Serums are available for different needs.
Some tighten, others are designed to minimize wrinkles, and still others ensure an even skin tone. It is best if they come from the same care series as the creams used, so that they further enhance the desired effect.
Masks are also popular skin care products and can improve the skin's appearance. As a rule, they should only be used once or twice a week and should usually be left on for a quarter of an hour. It is best to apply the mask in the evening.
There is a suitable make-up for almost every skin need. A moisturizing mask is suitable after a sauna, a cleansing and pore-refining mask can be helpful after a city trip, and an invigorating mask can help if you feel tired and exhausted.
Conclusion
With the right facial care, you can increase your general well-being.
To banish environmental toxins and dirt residues from the face, make facial care and cleansing a daily ritual.
In addition, with the right care you can preserve your youthful appearance and get a fresh and rosy complexion.
And once you have found a skin care series that you are satisfied with, you should remain as loyal as possible to these products. Who tries too much around, harms the skin thereby in the long run.
If you are unsure about your choice of skin care products or have questions about your skin type, you can seek advice from your dermatologist, pharmacies or perfumeries.
Make-up is indispensable for most people, but you should still treat yourself to a make-up-free day now and then. It would be even better for the skin to do without make-up products altogether, because they considerably restrict the skin's ability to breathe.