Strengthening the immune system with medicinal plants from nature and the garden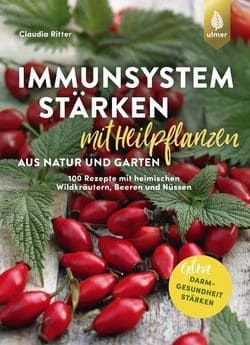 Bitter makes fitter – natural plant power for a strong immune system
The guidebook "Strengthening the immune system with medicinal plants from nature and garden" by Claudia Ritter contains 100 recipes with native wild herbs, berries and nuts that help us mobilize our body's defenses.
How we can also strengthen our intestinal health is revealed in an extra section.
Barbary grass and garlic rocket are only two of many native wild herbs that can boost our immune system.
Processed in a herb dip or as a pesto, they are a tasty addition to our menu.
As Detox for the liver a vitaminpralle blackberry fruit gruel helps – at the same time for the dessert is ensured.
Even preparations from the root of the chicory are not a witch's kitchen, but a favorite of our intestinal bacteria.
Finally, we carry two kilograms of the Helferlein in us, which want to be supplied.
The expert explains how the bioactive ingredients of our 20 strongest herbal allies strengthen the immune system – both for prevention and for gentle self-treatment in case of infections.
In addition, there are many practical tips on harvesting and processing and more than 100 recipes from her test kitchen that are suitable for everyday use.
Informative extras on intestinal health, gemmotherapy with plant buds and the "wonder weapon" of the healing sour honey Oxymel round off the book.
About the author
Claudia Ritter is an alternative practitioner, author and lecturer on the subject of medicinal plants and naturopathy. She runs her own naturopathic practice and has already published several books on naturopathic topics.
Immune system strengthen with medicinal plants from nature and garden.
100 recipes with native wild herbs, berries and nuts. Extra: Strengthen intestinal health
136 pages | 60 color photos | paperback
Stuttgart: Verlag Eugen Ulmer, 2022
ISBN 978-3-8186-1631-1
More information and ordering