Electric slatted frames and their benefits for health well-being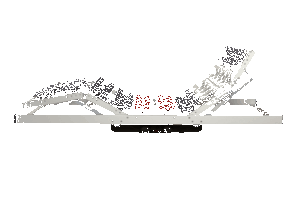 Electric slatted frames and their health benefits
Not only older people benefit from the purchase of electric slatted frames if they suffer from physical impairments. Younger people also appreciate the high comfort offered by electric slatted frames.
Electric slatted frames offer special comfort to young and old alike
In general, we associate electric slatted frames with seniors. But young people also see numerous advantages in motorized slatted frames. It is not uncommon for the younger, but also older generation to have a nice habit of watching TV in the bedroom.
In this case, piling up pillows several times rarely helps in finding a comfortable sitting position. Much better effect, for example, electric slatted frames from the slatted frame master. Because thanks to the electric operation, the slatted frames can be conveniently adjusted to the desired positions without physical effort.
While older people like to watch TV or read a good book in bed before going to sleep, the younger generation likes to watch a good movie on their tablet or play a bit more on their laptop. With the help of an electrically operated slatted frame, any position can be adjusted – all without leaving the bed again.
This makes them ideal for people with physical disabilities who have problems getting up on conventional slatted frames. Even morning grouches benefit. Because thanks to the simple raising of the slatted frame to the upright position, getting up is even more fun.
Conventional lying positions when using electrically operated slatted frames
In principle, electrically operated slatted frames contribute to a significantly more flexible adjustment process. The S-shape is very popular as a lying position. The head part as well as the parts at the knee and the calves are raised.
In some cases, the head area can be adjusted independently of the back area. Both legs are supported in parallel, which makes this particular option of adjustment for improved comfort. At the same time, those helps older people during the process of getting out of bed.
Individual adjustments increase comfort
On the whole, a large number of electric slatted frames continue to have individual adjustment options. These are mainly noticeable in the height, where they help seniors to better get into bed. Because the slatted frame can then be moved a little downwards.
These are not – as with manually adjustable slatted frames – rigid options for adjustment. On the contrary, they have a much more natural shaping for increased comfort. In addition, the use of multiple motors contributes to a higher number of lying positions.
Electric slatted frames and their health benefits
In addition to the above-mentioned advantages for increased comfort, electric slatted frames also have various health benefits. For sick persons, regardless of their age, there are numerous positive aspects.
In contrast to manually adjustable slatted frames, where the head and leg sections can also be adjusted, motor-driven slatted frames do not require any force to be applied. The former are adjustable only when the bed is left again. Electric slatted frames, on the other hand, can be conveniently adjusted at the touch of a button.
Improved breathing
Even the much higher sleeping position reduces the pressure on the sinuses. This makes it easier to breathe. Especially for people affected by chronic respiratory diseases – for example asthma, chronic bronchitis, COPD – electric slatted frames prove to be extremely beneficial.
Height adjustability for easier getting in and out of bed
In addition, people with cardiovascular diseases, vein and spinal problems and heartburn derive individual benefit from their use. Because the height of the slatted frame can be adjusted to suit personal needs, this can result in significant relief of symptoms.
Good adaptation to body due to stepped bedding
Due to the knee bend in the area of the leg elevation, electric slatted frames enable ideal adaptation to the anatomical structure of the human body. Thus among other things by the step storage a genuine benefit can be obtained with volume disk complaints. Even the promotion of the blood circulation makes such a high position possible.
Inclined lying surfaces thanks to special slatted frames
For those who suffer from reflux syndrome, however, electric slatted frames are only suitable to a limited extent. Special slatted frames with an inclined lying surface prove to be helpful here. Back sleepers can use a motor-driven slatted frame in case of reflux. Because the head end must be higher than the foot end.
When the esophagus is higher than the stomach, the gastric juice cannot flow back. For side sleepers with reflux, an electrically operated slatted frame is less suitable, as it cannot be adjusted sufficiently.
Emergency lowering is essential for electric slatted frames
If an electric slatted frame is on the wish list, it is important to make sure that it is equipped with an emergency lowering function. Because in every household there can be an unexpected power failure. And electric slatted frames depend on a continuous power supply.
So that a recently taken up position of the headrest for reading or watching TV can be taken back in spite of power failure, you need the emergency lowering. Because this guarantees in this case a lowering of the setting without mains current into the lying position.
As a rule, it is constructed in such a way that at least one of the raised grids can be returned to the lying position. So sleeping is still possible. However, the emergency lowering function does not allow the headrest to be raised again. This can only happen again when the mains electricity returns.